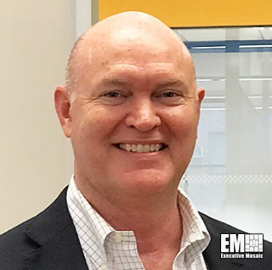 Jay Humphlett
Public Sector EVP
Dataminr
Jay Humphlett, Dataminr EVP for the Public Sector
Jay Humphlett serves as Dataminr's executive vice president for the public sector. He is experienced in executing major growth strategies concerning defense, intelligence and federal customers worldwide.
Dataminr provides customers with actionable alerts based on public data and real-time artificial intelligence analysis, according to Humphlett's LinkedIn profile.
Humphlett said he helped Dataminr win a $258 million contract providing the Department of Defense with the company's First Alert software-as-a-service AI platform. First Alert was designed to detect early signs of high-impact events and emerging risks from publicly available data. The solution was built to help clients form educated risk mitigation and response strategies.
Humphlett also helped Dataminr establish a business partnership with Cleveland Clinic and create a telemedicine solution for classified operations.
Before he joined Dataminr in September 2018, Humphlett served as managing director at ValuePoint Group, a private equity and consulting company specializing in the aerospace, defense, security and government services sectors.
Humphlett founded and served as the CEO of VIGILANT Expeditionary Solutions, a provider of telemedicine, crisis management and expeditionary services for government clients.
In November 2001, Humphlett began working at what was then Raytheon Company, starting out as an entrepreneur in residence before becoming vice president of the company's commercial ventures division.
He later served as Raytheon's deputy general manager and director of strategy and business development for unmanned and reconnaissance systems.
Humphlett earned a bachelor's degree in electrical and biomedical engineering from Vanderbilt University and a Master of Business Administration degree in entrepreneurship from the University of California Los Angeles' School of Management.
Category: Executive Profiles
Tags: AI artificial intelligence Cleveland Clinic Dataminr Executive Profiles Jay Humphlett LinkedIn private equity public sector Raytheon University of California ValuePoint Group Vanderbilt University VIGILANT