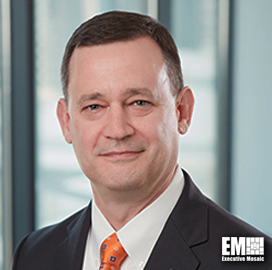 John Coleman
John Coleman, President of Defense and Homeland Security Sector at Peraton
John Coleman, a member of the Potomac Officers Club, has been serving as the president of Peraton's defense and homeland security sector for over two years.
The said role puts Coleman at the forefront of the sector's strategy development and execution,  program performance, growth objectives and efforts aimed at keeping Peraton's strategic technology investment portfolio consistent with customers' future mission requirements.
Coleman also leads the sector in its mission of providing technology integration, engineering, logistics and mission support services to customers scattered across the federal government, including the departments of Homeland Security and State, Peraton said. 
The company's defense and homeland security sector is focused on a number of key programs including the Transportation Security Administration's Integrated Logistics Support program and the Customs and Border Protection agency's Tethered Aerostat Radar System.
Among other things, Coleman also has executive responsibility over current health programs in agencies such as the Department of Veterans Affairs and the Defense Health Agency.
Prior to joining Peraton, Coleman served as the president of the investigative services group at OMNIPLEX World Services, a security and investigations company based in Herndon, Virginia. During his one-year tenure at the company, Coleman was tasked with leading a team consisting of over 2K employees, establishing strong senior customer relationships and improving program performance. 
He also spent more than four years as the vice president of the information and mission solutions business area of PAE's national security solutions business, in which he handled a portfolio focused on DHS and Department of Justice customers. 
Earlier in his career, he held executive roles for companies like FCi Federal, Northrop Grumman and IMDB.
Coleman attended Clemson University, where he earned his bachelor's degree in management and a master of business administration degree in business administration and management. 
Category: Executive Profiles
Tags: Department of Defense Department of Homeland Security Executive Profiles John Coleman OMNIPLEX World Services International PAE Peraton