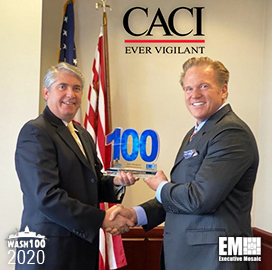 John Mengucci and
Jim Garrettson
John Mengucci, President and CEO of CACI, Receives First Wash100 Award From Executive Mosaic
CACI President and CEO John Mengucci has received his first Wash100 award from Executive Mosaic as part of the 2020 selection.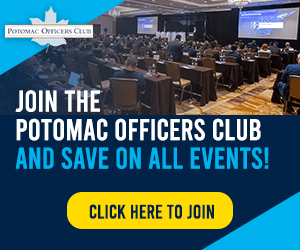 Executive Mosaic founder and CEO Jim Garrettson presented the award in recognition of Mengucci's success in growing CACI's revenue through large contract awards and strategic acquisitions, GovCon Wire reported.
Mengucci joined CACI in June 2019, succeeding six-time Wash100 awardee Ken Asbury as president and CEO. 
Mengucci has since led CACI through multiple contract opportunities and expanded the company's presence in the federal government contracting sector.
Under his leadership, CACI secured a $1.9M contract to continue modernizing Customs and Border Protection's mission-critical systems. 
CACI also won a $907M task order to provide the Army with intelligence analysis and management services in support of the service's missions in Afghanistan. 
The company is currently tasked to help the Air Force Research Laboratory enhance information security and use new approaches to analyze, access and disseminate data across the national security enterprise.
Mengucci has also used his influence to support philanthropic initiatives. In November 2019, CACI helped students pursue their future careers through the Ken Asbury Mentorship Program. The company provides internship opportunities for successful candidates.
Wash100 is an annual selection of the most influential personalities in government contracting. The award honors executives and government officials who have demonstrated skills in leadership, innovation, reliability, achievement and vision in the sector.
The recipients of the award are determined through nominations from the government contracting community and the discretion of the Executive Mosaic team.
Category: Popular Voices
Tags: CACI Executive Mosaic GovCon Wire Jim Garrettson John Mengucci Ken Asbury Ken Asbury Mentorship Program philanthropy Popular Voices Wash100