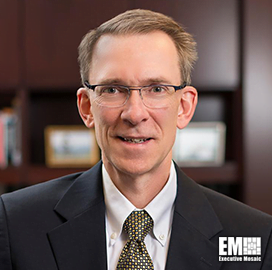 John Wilson
CIO and CSO
Mitre
John Wilson, VP, CIO & CSO at Mitre
John Wilson serves as vice president, chief information officer and chief security officer at Mitre. Since November 2019, he has been leading the information, enterprise computing and security organization. 
In the current role, he is in charge of enhancing the company's intelligent enterprise, allowing human resources to improve services to customers and partners, according to this Linkedin profile. 
Wilson also heads the business transformation program, an internal initiative to reshape the company's business operations and processes. As CSO, he manages the synergy between the organization's information systems and information security. 
In his more than 19-year career at Mitre, he previously assumed the role of vice president for technical centers. The group consists of IT, electronic systems technology,  autonomous systems, networking and infrastructure,  transportation, health transformation and systems engineering. 
For five years, he led the group with a 3,500 workforce tasked to offer technical support in various services to the company's clients. He supported the unit with his experience in business innovation, embedded systems and software engineering. 
Wilson started at Mitre as a technical director for the IT technical center in July 2001. He ran the segment specializing in geospatial applications, data analytics, biometrics and social computing. In the next 13 years, he held various positions, including executive director for the net-centric division, technical director for software engineering center and senior member of the technical staff for the company's sponsors. 
He spent at least a year as director for consulting technology at Kana Software, where he provided technical guidance throughout the company's customer relationship management software implementation. 
Wilson was a college professor for over four years, serving adjunct faculty for computer science and information systems at Boston University. He designed and instructed courses in e-commerce, Java, software engineering and computer science. 
He graduated from the University of New Hampshire with a degree in computer science and earned his master's degree in software engineering from Wang Institute.
Category: Executive Profiles
Tags: Boston University Chief Information Officer chief security officer CIO CSO Executive Profiles John Wilson KANA Software LinkedIn MITRE University of New Hampshire Wang Institute