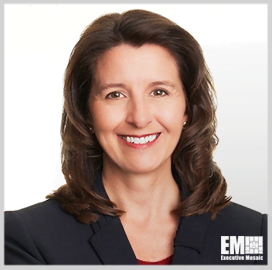 Kathy Warden
Chairman, CEO, President
Northrop Grumman
Kathy Warden, Chairman, CEO and President of Northrop Grumman
Kathy Warden is the chairman, chief executive officer and president of Northrop Grumman.
Warden, a 2021 Wash100 winner, has been with the Falls Church, Virginia-based aerospace company for 12 years. She has held other leadership positions, including chief operating officer and corporate vice president and president of Northrop's mission systems and information systems sectors, according to her company profile.
Her LinkedIn profile shows that she also served as senior VP and general manager of the company's cyber intelligence division, as well as VP of cyber and signals intelligence systems.
One of her key contributions to Northrop is leading the integration of Orbital ATK, which now operates as Northrop Grumman Innovation Systems. The aerospace company completed its acquisition of Orbital ATK in June 2018.
In addition to leading Northrop, she sits on the board of directors of Merck & Co., Inc. and Catalyst. She is also the vice chairman of the Greater Washington Partnership and the James Madison University Board of Visitors.
Previously, she worked for General Dynamics. During her four-year stint with GD, she was appointed VP of intelligent systems and director of intelligence mission solutions.
She also spent four years at Veridian, where she served as SVP of the enterprise systems sector.
Warden graduated with a bachelor's degree from James Madison University. She also holds a Master of Business Administration degree from the George Washington University.
Category: Executive Profiles
Tags: board of directors defense Executive Profiles General Dynamics Kathy Warden Northrop Grumman Veridian