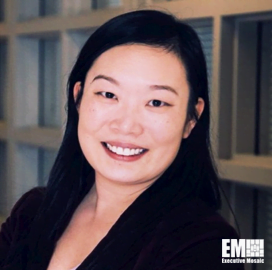 Katie Qian
Director of USAF Programs
Northrop Grumman
Katie Qian, Northrop's Director of Air Force Programs
Katie Qian has been serving as Northrop Grumman's director of Air Force programs. She is responsible for strategy, growth and program execution of propulsion systems Air Force programs, including the Rocket Systems Launch Program, Propulsion Subsystem Support Contract and Ground Based Strategic Deterrent.  
Qian is a profit-and-loss specialist with a business and technical background in rocket motor capture, development, production and sustainment for application in space and weapons systems, according to her LinkedIn profile.
Prior to her current role, Quan served as Northrop's senior manager for strategy integration and business development. She oversaw strategic, civil, commercial and business lanes with a focus on competitive positioning, partnerships, capture and advocacy campaigns. 
Her other past roles at Northrop include capture manager for GBSD propulsion, senior manager for innovation systems sector business development and acquisition integration and manager of commercial programs business development.
Before she joined Northrop in May 2017, Qian worked at Orbital ATK as a GEM 63.GEM 63XL systems engineer and as its rocket motor assembly project lead. 
Qian held technical responsibility for a team of systems and design engineers who handled structural ordnance integration, requirement and verification, among others. She spent more than 12 years in the company holding various engineering and quality assurance roles.
Qian earned a bachelor's degree in aerospace engineering from the University of Illinois Urbana-Champaign, an executive program master's degree from the University of Utah's David Eccles School of Business and a graduate certificate in systems engineering from the University of Utah. 
Category: Executive Profiles
Tags: Air Force business development engineering Executive Profiles GBSD Katie Qian Northrop Grumman Orbital ATK P&L quality assurance senior manager strategy University of Illinois Urbana-Champaign University of Utah