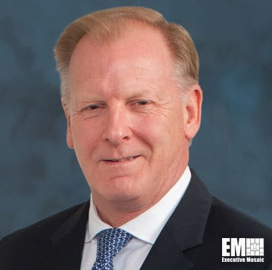 Kenneth Possenriede
CFO, EVP
Lockheed Martin
Kenneth Possenriede, Lockheed Martin CFO, EVP
Kenneth Possenriede has been serving as Lockheed Martin's chief financial officer and executive vice president since February 2019. In the said role, he handles the entirety of Lockheed Martin's financial strategies, processes and operations.
As a 15-year Lockheed Martin executive, Possenriede managed the corporation's multiple business segments, including its aeronautics unit, where he served as vice president of finance and program management and took charge of areas like accounting, contracts, business management, financial planning, scheduling and earned value, Lockheed Martin said.  
Possenriede also handled the company's worldwide banking activity during his tenure as vice president and treasurer, giving him responsibility over global treasury operations, foreign exchange and capital markets, rating agency relations, capital planning, facilities and risk management.
Previously, he also served as the vice president of finance of Lockheed Martin's rotary and mission systems and space segments for over five-and-a-half years and 10 months, respectively. 
In a press release, Marillyn Hewson, Lockheed Martin chairman, president and chief executive officer, summed up Possenriede's 30-year career by acknowledging his track record in delivering outstanding results for the company's customers and shareholders.
Possenriede attended Rutgers University, where he earned his bachelor's degree in economics. He also obtained a master of business administration degree from the University of Michigan.
Category: Executive Profiles
Tags: CFO Chief Financial Officer Executive Profiles Kenneth Possenriede Lockheed Martin Rutgers University University of Michigan