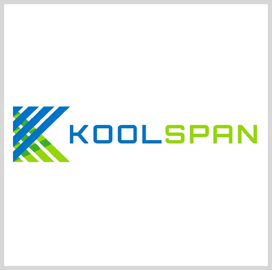 KoolSpan
KoolSpan Announces Availability of TrustCall on NGA App Store
Smartphone security company KoolSpan has announced the availability of TrustCall, a secure communications app for defense and intelligence agency users, on the National Geospatial-Intelligence Agency's app store. 
TrustCall was made available through the Innovative GEOINT Application Provider Program and is now available to the Department of Defense and the Intelligence Community, KoolSpan announced Tuesday.
"We take not only great pride but also responsibility to help DOD and IC employees protect their communications and are working with our partners to do everything to make it easy for them to deploy TrustCall to their organizations and people," said KoolSpan CEO Nigel Jones. 
IGAPP serves as NGA's secure supply chain and was designed to help DOD and IC solve contracting and technological challenges while having access to a mission-supportive mobile experience.
KoolSpan said TrustCall provides high-fidelity audio through an intuitive solution that can be easily installed and requires no user training. The tool is an enterprise-grade solution that delivers high-performance validated encrypted audio, text messaging and file sharing, the company added.
TrustCall also takes advantage of policy enforcement, control management and application programming interfaces available in flexible deployment configurations. 
According to the Department of Homeland Security, voice and data functions cannot depend solely on networks for the confidentiality of integrity protection. DHS said the only viable solution is the use of end-to-end encryption for all communication paths.
"We are thrilled to partner with NGA's IGAPP to make this important solution available," Jones said. 
KoolSpan, a global provider of cross-platform smartphone communication security, supports governments and enterprises in over 60 countries, the company said. 
Category: Future Trends
Tags: communication security cybersecurity Department of Defense Department of Homeland Security end-to-end encryption Future Trends Government Cloud Innovative GEOINT Application Provider Program Intelligence Community KoolSpan National Geospatial-Intelligence Agency Nigel Jones TrustCall