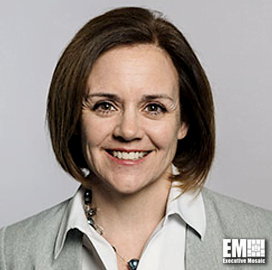 Kristie Grinnell
Kristie Grinnell, GDIT's VP for Supply Chain, Global CIO
Kristie Grinnell, a Potomac Officers Club member, serves as General Dynamics Information Technology's chief supply chain officer and global chief information officer. 
She is responsible for driving strategic growth and operational excellence throughout GDIT's IT services, enterprise IT and supply chain divisions, according to her LinkedIn profile. 
Grinnell is also in charge of ensuring that the company's delivery model and talent growth are in line with the expectations of customers and with GDIT's corporate mission. 
GDIT credited her with leading the company's strategic business plan in areas such as enterprise, business applications, data centers, wide-area networks and customer service. 
Before she joined GDIT as a supply chain executive in December 2015, Grinnel served as CSC's director of IT planning and governance. She was responsible for driving business technology strategy, including strategic planning, governance and financial management.
Grinnell spent more than 14 years of her career holding different directorial and managerial roles at PricewaterhouseCoopers, a professional services network based in London, United Kingdom. 
Her roles in PwC included IT strategy and planning leader, global IT director, global IT manager and management consultant.
As IT strategy and planning chief, Grinnel directed the development of PwC's $1.3B global IT strategic plan. She also managed IT portfolios, communications and change management, governance, processes and financial reporting. 
She began her professional career in 1994 as a manufacturing engineer at General Motors. Her duties in the company included designing, troubleshooting and supervising assembly machine equipment. 
Grinnell earned a master's degree in business administration and management from Cornell University and a bachelor's degree in mechanical engineering from the University of Pittsburgh.
Category: Executive Profiles
Tags: Cornell University Executive Profiles GDIT General Dynamics Information Technology General Motors Global CIO Kristie Grinnell POC member PwC supply chain University of Pittsburgh