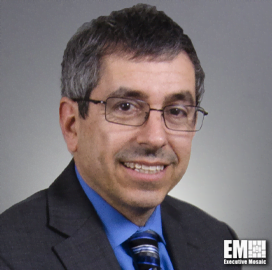 Mark Lewis
Acting Deputy
Undersecretary, DOD
L3Harris, SpaceX to Deliver Hypersonic-Weapon Tracking Satellites for SDA
L3Harris and SpaceX will provide the Space Development Agency satellites that can monitor hypersonic weapons.
The agreement indicates that each company will develop four satellites with wide field of view overhead persistent infrared sensors. Moving in low-Earth orbit, the spacecraft will use SDA's tracking layer, a system that tracks missiles speeding faster than Mach 5, C4ISRNET reported Monday. 
Dr. Mark Lewis, acting deputy undersecretary for research and engineering at the Department of Defense and a past Potomac Officers Club event speaker, said the tracking layer will be made up of an expanded constellation of WOV space vehicles that provide global coverage. 
"That's going to combine with activities in the Missile Defense Agency as they build toward their Hypersonic and Ballistic Tracking Space Sensor medium field of view space vehicles," he said. 
According to SDA Director Dr. Derek Tournear, a past Potomac Officer Club event speaker, the program will give SpaceX $149M and L3 Harris $193M in contract awards. The selection was based on technical merit and was the result of open competition. 
SpaceX built the Starlink constellation, a series of satellites made to offer commercial broadband from low-Earth orbit. The DOD has tested the technology to link multiple weapon systems. 
Tournear said the company will collaborate with other organizations to design the sensor which will be put on the satellite bus. SpaceX will construct a bus based on the Starlink network. 
"SpaceX had a very credible story along that line — a very compelling proposal. It was outstanding," he said. "They are one of the ones that have been at the forefront of this commercialization and commodification route."
L3Harris will develop an overhead persistent infrared solution based on years of experience with small satellites, small telescopes and OPIR technologies.
"They had an extremely capable solution. They have a lot of experience flying affordable, rapid, small satellite buses for the department," Tournear said.
Category: Speaker News
Tags: C4ISRNET Department of Defense Derek Tournear Hypersonic and Ballistic Tracking Space Sensor hypersonic weapon Mark Lewis Missile Defense Agency Space Development Agency SpaceX L3 Harris Speaker News Starlink constellation WFOV sensor