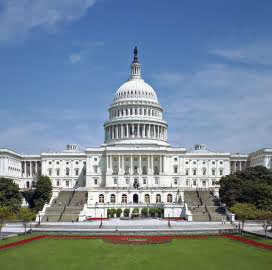 US Congress
Lawmakers Introduce $28B Funding Bill to Increase Security of Government IT Systems
A trio of lawmakers have proposed a new legislation aimed at funneling $28B in federal funding in support of efforts to bolster the cybersecurity posture of state and local information technology systems. 
The State and Local IT Modernization and Cybersecurity Act would establish a Public Health Emergency Information Technology Grant Program to distribute funding to address immediate IT system challenges amid the coronavirus pandemic and a Modernizing Information Technology Program to prioritize the procurement of new and more secure platforms. 
The bill was sponsored by Reps. Jim Langevin, D-R.I., and Mike Gallagher, R-Wis., along with Sen. Angus King, I-Maine, all of whom are part of the Cyberspace Solarium Commission, The Hill reported Thursday. 
In a statement, CSC member Langevin said the COVID-19 pandemic has exposed the negative impacts of the government's reliance on legacy IT systems. He emphasized the need for immediate investments to ensure a secure remote working environment for state and local employees and the importance of providing essential services like unemployment insurance for Americans. 
King, who is double hatted as co-chair of the CSC, also released a statement detailing the benefits of updating legacy systems in states and local governments. According to King, modernizing IT systems will improve security and help state and local governments operate more efficiently in the digital age.  
Meanwhile, Gallagher, another CSC co-chair, noted that outdated legacy systems make state and local governments susceptible to cyber threats, in addition to weakening their ability to deliver critical services. In his statement, Gallagher said modernizing IT infrastructure positions the country to be well-defended in cyberspace across all levels of government.
The bill was co-sponsored by Reps. Cedric Richmond, D-La., Will Hurd, R-Texas, Dutch Ruppersberger, D-Md., Michael McCaul, R-Texas, Max Rose, D-N.Y., and Don Bacon, R-Neb. 
Category: Future Trends
Tags: Angus King CSC Cyberspace Solarium Commission Future Trends House of Representatives information technology IT systems Jim Langevin Mike Gallagher Public Health Emergency Information Technology Grant Program Senate State and Local IT Modernization and Cybersecurity Act The Hill