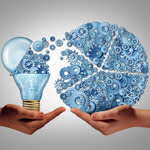 Lawmakers Propose Bill to Focus NSF on Emerging Tech
Lawmakers have proposed legislation that would focus the National Science Foundation's efforts toward emerging technologies, in addition to infusing $100B in federal funding over five years to the agency.
Senate Democratic Leader Chuck Schumer fronted the Endless Frontier Act to create a technology directorate within the agency, which would be renamed to the National Science and Technology Foundation, NextGov reported Wednesday.
"America cannot afford to continue our decades-long underinvestment and expect to lead the world in advanced scientific and technological research," Schumer said in a statement.
Schumer added that the coronavirus pandemic revealed that the United States' lack of scientific and technological development threatens the nation's health, economic competitiveness and national security. 
The directorate will advance emerging fields such as artificial intelligence, 5G communications and cybersecurity.  
It would also provide the Department of Commerce with $10B in funding to establish at least 10 regional technology centers, which are expected to both support disadvantaged businesses and develop emerging technologies.
The bill was introduced by Schumer, Sen. Todd Young and Reps. Ro Khanna and Mike Gallagher.
Its authors said the federal government should accept new responsibilities in advancing science and developing scientific talent among its citizenry. 
They added that the government can no longer rely solely on the disparate scientific agencies that they said only view science as collateral and peripheral to their individual problems. 
Such agencies include the departments of Agriculture, Commerce and Interior and the Federal Security Agency. 
The bill's proponents also said there is a problem of "scientific reconversion." U.S. scientific research has been disproportionately concentrated on a number of relatively narrow projects related to weapons and war efforts. 
They advocated for the immediate lifting of security restrictions on some of the military's technological knowledge, which they said should be spread on the record for the benefit of the general public.
Category: Popular Voices
Tags: 5G AI artificial intelligence Chuck Schumer Commerce Department cybersecurity Emerging Technologies Endless Frontier Act Mike Gallagher National Science and Technology Foundation National Science Foundation Nextgov Popular Voices Ro Khanna Todd Young