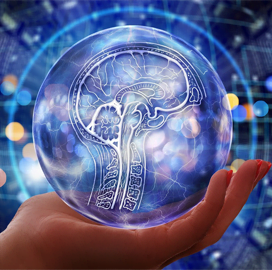 Artificial intelligence
Lawmakers Push for More Funding for AI R&D
Reps. Will Hurd, a two-time Wash100 awardee, and Robin Kelly have released a report calling for greater funding for the development of artificial intelligence technologies.
In collaboration with the Bipartisan Policy Center and the Center for New American Security, the two lawmakers pushed to increase AI funding year-on-year to $25B per year by 2025, Nextgov reported.  
"Advances in AI can also further R&D of other fields because of its broad, interdisciplinary nature, while breakthroughs in areas like neuroscience can greatly advance AI development," the report read.
The authors added that AI techniques that push the boundaries of semiconductor technologies and superconducting tech artificial neurons could maintain the United States' technological edge.
In the first recommendation, the authors emphasized that the $25B goal is "realistic and doable." The amount is equal to about 19 percent of total research and development spending in the fiscal 2020 budget.
They recommended that Congress raise the total federal research and development budget to 1.2 percent of the nation's gross domestic product to reach an overall boost of total public and private spending to 4 percent of GDP. 
Congress should also include funding to address the shortcomings of current AI methods with novel approaches, the authors said. They noted that existing deep learning systems typically require large amounts of training data and computing resources.  
"To ensure the United States remains a leader in technology, it must find ways to better incentivize and invest more in R&D, promote more collaboration among businesses, university, and government to share resources, and ensure we have adequate researchers available to each sector," the report concluded
Category: Future Trends
Tags: AI artificial intelligence Bipartisan Policy Center Center for New American Security Congress deep learning system funding Future Trends investment national security Nextgov R&D Robin Kelly technology United States Will Hurd