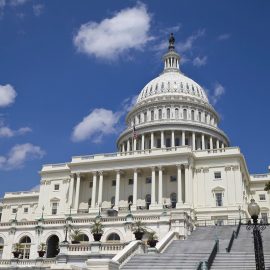 Lawmakers Put Forward Bipartisan USA Telecommunications Act
A group of representatives has proposed the USA Telecommunications Act, a bill aimed at funding 5G wireless technologies to combat national security threats posed by Chinese telecom groups. Specifically, the bill will provide $750M in funds to a grant program under the National Telecommunications and Information Administration in support of nationwide 5G network deployment and use.
According to the bipartisan group of lawmakers who sponsored the bill, the USA Telecommunications Act is expected to reduce costs for trusted equipment over the long term and encourage more competition in the network equipment market, thereby ensuring the security of America's critical networks through partnerships with like-minded countries, The Hill reported.
The bill would also facilitate the creation of an advisory committee for the grant funding, which would included federal agencies such as the Federal Communications Commission and representatives across the public and private sectors.
The sponsors introduced the bill in light of interference concerns from Chinese companies like Huawei and ZTE, hoping that it would facilitate a diverse, sustainable and competitive supply chain for America's 5G networks.
House Energy and Commerce Committee Chairman Frank Pallone Jr., D-N.J., along with ranking member Greg Walden, R-Ore., and Reps. Brett Guthrie, R-Ky., and Doris Matsui, D-Calif., sponsored the bill.
The introduction of the bill builds on recently approved laws against Huawei due to espionage concerns, which includes bans on federal purchases of the company's equipment. Concerns around Huawei root from a Chinese intelligence law that could employ companies and citizens in state intelligence work, including sharing data with the government, if necessary.
Category: Popular Voices
Tags: 5G Brett Guthrie Doris Matsui Frank Pallone Jr. Greg Walden Popular Voices The Hill USA Telecommunications Act