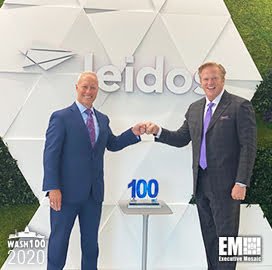 Gerry Fasano and
Jim Garrettson
Leidos Defense Group President Wins First Wash100 Award
Executive Mosaic has awarded the 2020 Wash100 Award to seasoned government contracting executive Gerry Fasano, president of Leidos' defense group. The award, which was presented by Jim Garrettson, founder and CEO of Executive Mosaic, marks Fasano's first Wash100 Award win.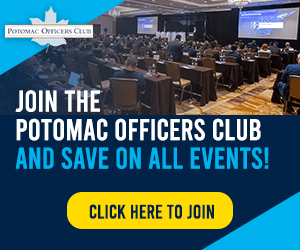 Fasano played a key role in advancing information technology capabilities for the U.S. military and the federal government, in addition to driving Leidos' revenue and exponential growth, GovConWire reported. 
Under his watch, Leidos secured a $649M task order to provide follow-on operations and support services to carry out the U.S. Special Operations Command's Tactical Airborne Multi-Sensor Platforms mission. Work for the task falls under the Army's Responsive Strategic Sourcing for Services contract. 
"We are proud to support the SOCOM community with tactical ISR operations, system integration and sustainment for commercial derivative aircraft for the Special Operations Command," Fasano said in a statement. 
The company also won an eight-year Navy contract with a maximum value of $7.7B. Under the terms of the contract, Leidos will oversee shore-based networks and data under the service management, integration and transport portion of the Next Generation Enterprise Network Recompete contract.
Previously, Leidos also bagged a potential 10-year, $6.5B contract with the Defense Information Systems Agency to provide system operation, maintenance and security to establish global communications between U.S. military and federal government personnel.
Category: Member News
Tags: Defense Information Systems Agency DISA Gerry Fasano information technology Leidos Member News tactical ISR operations US military US Navy Wash100