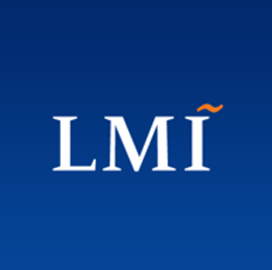 LMI
LMI Expands Research Partnership With Howard University
LMI has extended its academic partnership with Howard University to further explore research and development projects.
The enhanced partnership brings research funding, mentoring and client engagements to Howard University and gives LMI the opportunity to foster academic research that could benefit its clients.
LMI has been sponsoring Howard University's MBA Program Minority Case Competition since 2005. The annual contest serves as an opportunity for MBA students to apply business analytical skills to solve real government issues, LMI said Monday.
Howard University President Wayne Frederick welcomed LMI's 15-year commitment to the institution and looks forward to further strengthening the partnership.
Frederick's sentiments were echoed by LMI President and Chief Executive Officer Doug Wagoner, a member of the Potomac Officers Club and a 2021 Wash100 winner.
Wagoner said LMI is pleased to expand its partnership with Howard University, citing the institution's research experience and leadership in the fields of science, technology, engineering and mathematics.
Howard University is an academic research partner of the LMI Research Institute along with the University of Virginia, Pennsylvania State University, the University of Texas at San Antonio and the University of Maryland.
LRI establishes formal working relationships with universities to advance research projects that could significantly impact LMI's government customers.
Academic partners receive funding on research topics that align with LMI's strategic plan and key initiatives.
The research institute currently supports PennState's project aimed at mitigating the risk of counterfeit parts in the electronic parts supply chain and a UTSA project dedicated to facilitating reliable and continuous operation of internet of things.
Category: Member News
Tags: academic partnership Doug Wagoner Howard University LMI LMI Research Institute Member News Research and Development Wayne Frederick