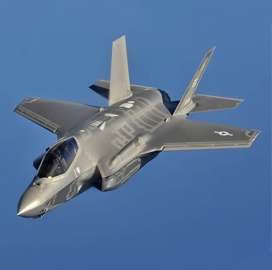 F-35A
Lockheed Lands Three F-35 Contracts Worth $1.4B
The Department of Defense has awarded Lockheed Martin three F-35 program contracts worth a total of $1.4B. 
The largest contract is a $1.29B hybrid contract for logistics services, including ground maintenance activities, action request resolution, depot activation activities, automatic logistics information operations and maintenance and reliability. 
Under the terms of the one-year deal, Lockheed will support F-35 Lightning II Joint Strike Fighter air systems for the Air Force, Marine Corps, Navy, non-DoD participants and foreign military sales customers, UPI reported Tuesday.
The majority of the work will be done in Fort Worth, Texas and Orlando, Florida, and the rest will be conducted in Greenville, South Carolina; Samlesbury, U.K.; and El Segundo, California. 
The second contract award is a $101.5M modification to provide sustainment services and outcomes for the U.K. Ministry of Defense.
The company will support daily flight operations at various F-35 operating sites in support of the F-35 Lightning II U.K. Lightning Air-System National Capability Enterprise.
The third contract is a $46.03M cost-plus-fixed-fee task order for the production and delivery of a redesigned module in support of the F-35 Joint Strike Fighter diminishing manufacturing sources redesign efforts.
Lockheed recently delivered its 123rd F-35 aircraft for 2020. The aircraft is an F-35A conventional take-off and landing variant built in Italy for the Italian Air Force.
"Achieving this milestone amid a global pandemic is a testament to the hard work and dedication of the team and their commitment to our customers' missions," said Bill Brotherton, acting vice president and general manager of Lockheed's F-35 program.
In 2020, Lockheed delivered 73 F-35s to the U.S. military, 31 to international partner nations and 18 to FMS customers.
Category: Contract Vehicles
Tags: Air Force Bill Brotherton Contract Vehicles Defense.gov Department of Defense DoD F-35 FMS Foreign Military Sales Lockheed Martin Marine Corps Navy UPI