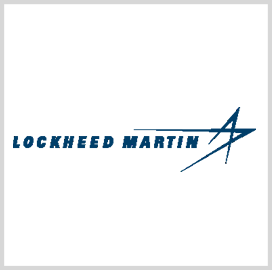 Lockheed Martin
Lockheed Martin, NEC Extend Partnership, Will Continue Applying AI in Product Development
Lockheed Martin has signed a joint collaborative agreement to extend its partnership with NEC, a Japanese electronics company that develops artificial intelligence tools.
Lockheed Space Executive Vice President Rick Ambrose, a Potomac Officers Club member and 2021 Wash100 winner, said the partnership will shorten the delivery time of systems and streamline the work of employees.
"The power of AI is leveraged across our entire enterprise, and with a trusted partner like NEC, we gain the resources to expand its abilities at scale across our internal operations," Ambrose added.
NEC's System Invariant Analysis Technology, an AI analytics engine, will support the design and production phases of spacecraft development, including applications on NASA's Orion vehicle for Artemis, Lockheed said.
Lockheed is the prime contractor building Orion, a spacecraft that will play a role in NASA's plan to build a sustainable presence on the lunar surface.
According to Lockheed, NEC's SIAT engine automatically detects system inconsistencies based on data from sensors. The technology was designed for use in computer systems, power plants, factories and other buildings.
Lockheed said SIAT has been integrated into the Technology for Telemetry Analytics for Universal Artificial Intelligence. T-TAURI is a time series analysis framework designed to serve as a foundational system for technologies like digital twins.
T-TAURI and SIAT were used to analyze large amounts of data produced by the Orion vehicle during testing, Lockheed said. The test involved 150,000 sensors and the analysis of data from more than 22 billion logical relationships.
Lockheed added that it plans to continue applying AI technologies for applications, including future ground station support for satellite operations.
Category: Member News
Tags: AI artificial intelligence Lockheed Martin Member News NASA NEC Orion partnership Potomac Officers Club Rick Ambrose SIAT T-TAURI Wash100