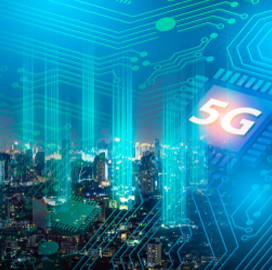 Space-based 5G
Lockheed Martin, Omnispace to Jointly Develop Space-Based 5G Capabilities
Lockheed Martin has entered into a strategic interest agreement with Omnispace, a telecommunications company, to jointly pursue 5G capabilities in space.
Omnispace plans to establish a 5G-based non-terrestrial network that will take advantage of the company's 2 GHz S-Band spectrum rights, Lockheed said Tuesday.
Rick Ambrose, executive vice president of Lockheed Martin's space division, said such a space-based 5G global network would allow users to easily transition between satellite and terrestrial networks, eliminating the need to use multiple devices. Ambrose is a member of the Potomac Officers Club and a 2021 Wash100 winner.
Lockheed said global 5G connectivity will have applications for civil, commercial and defense purposes, including mobile joint all-domain interoperable communications.
According to Omnispace, the NTN will use 3rd Generation Partnership Project standards to enable direct-to-device connectivity and interoperability.
Omnispace recently demonstrated an initial 5G-via-satellite capability for the Department of Defense. The company's on-orbit satellite received emulated 5G radio access network data from several commercial off-the-shelf 5G devices.
The test was conducted at LinQuest's Northern Virginia laboratory in collaboration with the National Security Innovation Network, the Navy and the Marine Corps.
Campbell Marshall, vice president of government and international markets at Omnispace, said the capability will provide warfighters with global connectivity and "true comms-on-the-move."
Omnispace is a Virginia-based telecommunications company that operates global non-geostationary satellite infrastructure to provide services across the Asia Pacific region, South America, Africa and the Middle East, according to its LinkedIn profile.
Lockheed is a global security and aerospace company headquartered in Bethesda, Maryland. The company says it specializes in the research, design, development, manufacture, integration and sustainment of advanced technology systems, products and services.
Category: Member News
Tags: 5G Campbell Marshall Department of Defense interoperability LinkedIn LinQuest Lockheed Martin Member News National Security Innovation Network NTN Omnispace Potomac Officers Club satellite telecommunications Wash100