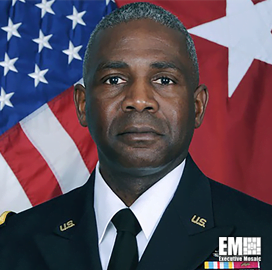 Darrell Williams
Lt. Gen. Darrell Williams, 19th DLA Director
Lt. Gen. Darrell Williams serves as the 19th director of the Defense Logistics Agency and is responsible for leading the $38B agency's mission of supporting the Department of Defense's global logistical needs, the DLA said. 
He directs nine supply chains that support the U.S. military and federal, state, local and international partners. Williams also oversees the National Defense Stockpile, an international network of 25 distribution centers, according to the DOD website. 
DLA provides food, medical material, uniforms, construction equipment, fuel and spare parts for military systems, the agency's website said.
In an interview with Defense News, Williams said securing supply chains involves dealing with cyber threats, counterfeit goods and a weakening industrial base. 
Williams stressed the importance of DLA's mission to protect supply chains and about 12K different suppliers for the security of its customers, which he said includes the entire government. 
"From our standpoint, the business of supply chain security is every bit as important as the actual support that we provide," Williams told Defense News. 
Williams is a distinguished military graduate of Hampton University in Virginia, where he earned a bachelor's degree in psychology.
He earned a master's degree in business management from Pennsylvania State University. The director also holds master's degrees in military arts and sciences and in national security and strategic studies. 
Williams has held command and staff roles in the continental United States, Korea, Hermand and Hawaii. He has also been deployed to Kosovo, Kuwait and Iraq. 
His past key assignments include commanding general, deputy chief of staff, commander and executive officer to the deputy chief of staff. 
Williams holds numerous awards and decorations including the Distinguished Service Medal, Defense Superior Service Medal, Legion of Merit, Bronze Star Medal, Defense Meritorious Service Medal, Army Commendation Medal and Army Achievement Medal.
Category: Executive Profiles
Tags: counterfeit cybersecurity Darrell Williams Defense Logistics Agency Department of Defense Executive Profiles Hampton University industrial base logistics Pennsylvania State University supply chain U.S. Army