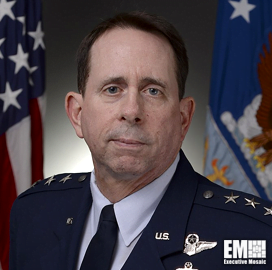 Jack Shanahan
Lt. Gen. Jack Shanahan, JAIC Director
Lt. Gen. Jack Shanahan currently works under the Office of the Department of Defense Chief Information Officer as the director of the Joint Artificial Intelligence Center, a role he has held for nearly a year and a half now. 
Since taking on the role in December 2018, Shanahan has been at the forefront of the DoD's efforts in accelerating the delivery of AI-enabled capabilities to achieve mission impact at scale and ultimately expand joint force advantages. 
Shanahan's experience with AI projects stems from his prior experience serving as director of the Algorithmic Warfare Cross-Functional Team, also known as Project Maven, the AI pathfinder project under the undersecretary of defense for intelligence, JAIC posted.
While Project Maven focused on building a product delivery pipeline, the JAIC extended to full AI capability delivery, backed by strategic engagement and policy, plans and analysis, intelligence and an operating model of centralized direction, Shanahan detailed in a previous briefing on the DoD's AI-related initiatives.
According to Shanahan, the JAIC is keen on accelerating the military application of AI without compromising ethical, safety, and legal standards. 
Some of the current priorities of the JAIC include predictive maintenance for the H-60 helicopter, cyber sense-making focused on event detection, user activity monitoring and network mapping, as well as intelligent business automation.  
Under Shanahan's leadership, the JAIC is also working to establish the Joint Common Foundation, a platform envisioned to provide access to data, tools, environments, libraries and other certified platforms to facilitate rapid development, evaluation, testing and deployment of AI-enabled solutions to warfighters. 
Most recently, the JAIC awarded an $800M contract to Booz Allen Hamilton to develop AI for warfighting operations. 
"This contract will be an important element as the JAIC increasingly focuses on fielding AI-enabled capabilities that meet the needs of the warfighter and decision-makers at every level," Shanahan said in an announcement.
A multi-awarded leader, Shanahan won the 2020 Wash100 Award for his leadership in JAIC, particularly for pushing for stronger AI initiatives and improving recruitment to test the technology's capabilities.
He has also received other awards, including the Defense Distinguished Service Medal, the Distinguished Service Medal, the Air Force Commendation Medal and the Defense Meritorious Service Medal. 
Category: Executive Profiles
Tags: artificial intelligence Department of Defense Director Executive Profiles Jack Shanahan Joint Artificial Intelligence Center machine learning National Security Agency U.S. Air Force Wash100