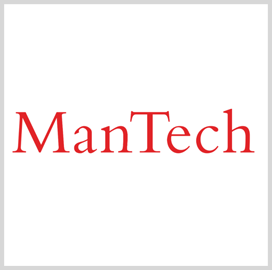 ManTech
ManTech Announces Financial Results for Second Quarter of 2020
Technology company ManTech has announced its financial results for the second quarter of the company's fiscal year 2020, which ended on June 30.
"The company produced another quarter of exceptional organic growth, healthy profitability and robust cash flow. Our talented people's passion for delivering innovation and their steadfast commitment to customer missions underpin our continuing success," said CEO and President Kevin Phillips, a Potomac Officers Club member and a four-time Wash100 awardee.
ManTech posted a revenue of $632M, an 18 percent increase from the second quarter of 2020. The revenue figure was largely organically driven as a result of recent contract awards, the company said.
The company bagged a total of $663M in contract awards in the quarter. ManTech highlighted its $87M contract to provide cyber and information technology modernization services for the Navy. Another of its key contracts is a $66M deal to enhance the Navy's integrated network communications. 
ManTech posted an operating income of $39.6M, representing a 19 percent increase on-year. Net income was $29.9M and diluted earnings per share was $0.74, up 24 percent and 23 percent on-year, respectively. 
For the quarter, ManTech saw cash flow from operations worth $62M. Days sales outstanding were 63 days, which represented an improvement of three days over the same period in 2019.
ManTech said it expects to see a revenue of up to $2.5B, net income of up to $130M and diluted EPS of up to $3.21M for 2020 overall.
"We have outperformed against plan in the first half of 2020 and will look to maintaining that momentum for the balance of the year. Our backlog continues to afford us good visibility and a path to sustained growth," said Chief Financial Officer Judith Bjornaas.
Category: Member News
Tags: CEO diluted EPS financial performance FY 2020 Judith Bjornaas Kevin Phillips ManTech Member News national security net income POC member President revenue Wash100