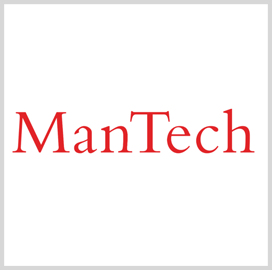 ManTech Launches Cybersecurity Tool for Space Assets
ManTech has announced the launch of Space Range, the company's new cybersecurity solution that integrates research into offensive cyber to protect space assets from cyberattacks. 
Space Range is a reusable cybersecurity solution designed using a software-defined infrastructure model, ManTech said. The tool tests vulnerabilities in terrestrial and orbital networks by creating exact models.
"In a world where hostile nation-states work around-the-clock to compromise networks and infrastructure, Space Range fills the vital role of protecting space assets from the ground up – including complex ground stations and network transport facilities," said Rick Wagner, a 2020 Wash100 winner and president of ManTech's mission cyber and intelligence solutions group.
The system includes physics-based traffic shaping and link modeling, multiple processor architectures and seamless integration of physical hardware-in-the-loop, ManTech announced Monday. 
Space Range allows its users to train their cyber professionals to respond to real-world cyber threats such as malware, denial of service attacks, command intrusion and payload hijacking.
In a press release, ManTech posted a supplementary video showing the Space Range defending against a live cyberattack on a replicated satellite command and control system. 
The video demonstrates the tool's ability to find hidden vulnerabilities, misconfigurations and software bugs on network replications. ManTech said tool arms customers with the knowledge they need to defeat real-world attacks.
ManTech is an information technology and services company based in Herndon, Virginia. It specializes in cybersecurity, IT, intelligence, counter-intelligence, mission assurance, systems engineering and test and evaluation, according to the company's LinkedIn profile. 
The company also works on health care, data collection and analytics, C4ISR, software engineering, enterprise IT, global logistics, C5ISR and continuous diagnostics and mitigation. 
Category: Future Trends
Tags: cybersecurity Future Trends Intelligence Community IT ManTech Rick Wagner space Space Range U.S. Military