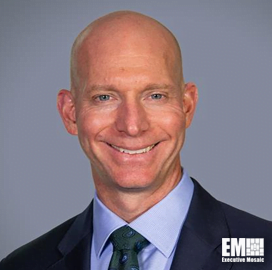 Matt Tait
CEO
ManTech
ManTech Taps Matt Tait to Serve as COO
Matt Tait, a member of the Potomac Officers Club, is set to take over as ManTech's new chief operating officer starting July 1, the company announced Monday.
The appointment wraps up Tait's nearly two-year tenure as president of ManTech's mission solutions and services segment, where he led the delivery of a wide array of engineering, technology and digital services necessary for maintaining national security and federal civilian missions. Tait also made significant contributions to the expansion and the realignment of the company's businesses across the Department of Defense and the federal civilian sector in line with the business strategy "Bringing Digital to the Mission," ManTech said. 
In his new role, Tait will report directly to Kevin Phillips, ManTech's president and chief executive officer.
Phillips, a POC member and a 2020 Wash100 winner, acknowledged Tait's dynamism as a leader and expressed confidence in his ability to drive the company's growth and bring enabling technologies to critical federal missions.
Tait's transition comes amid ManTech's realignment of its two business groups, namely the MSS and mission, cyber and intelligence solutions segment. The organizational restructuring is aimed at creating three business sectors, focused on the intelligence, defense and federal civilian sectors, in hopes of enabling ManTech to leverage its capabilities to better address the emerging and sophisticated needs of its clients. 
The changes prompted the appointment of ManTech's Senior Vice Presidents and General Managers Adam Rudo, Andrew Twomey and Bryce Pippert as executive vice presidents and GMs of the intelligence, defense and federal sectors. Under the realignment, the three executives will report to ManTech's COO. 
"I am pleased that Adam, Andy and Bryce will continue to bring their unwavering commitments to our customers and their critical missions. Our support to customers remains the driver for ManTech's market-leading performance," Phillips said.
ManTech believes that the organizational changes would not have a material impact on its 2020 financial results or guidance as updated in April.
Category: Member News
Tags: Adam Rudo Andrew Twomey Bryce Pippert Executive Moves Kevin Phillips ManTech Matt Tait Member News Mission Solutions POC Potomac Officers Club