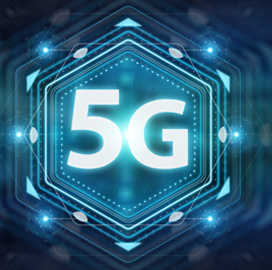 5G
Marine Corps Tech Director: Bases as 5G Test Sites to Advance Technology
The use of military bases as test facilities to enhance the fifth-generation wireless technology as the new network for communications is vital to national security, according to Lt. Col. Brandon Newell, director of technology and partnerships for the Marine Corps installation next program. 
The establishment of a 5G living lab speeds up the nation's ability to use the technology for national defense, Fedscoop reported Monday. 
The Marine Corps Air Station Miramar near San Diego is the latest 5G test site to check and demonstrate Verizon's 5G ultra wideband service, an advanced form that uses minimal energy levels over a broader part of the radio waves to deliver data at a high speed. 
MCAS Miramar consists of around 15K military and civilian personnel. The installation is also home to the 3rd Marine Air Wing and the 5th Generation F35-C. 
The ultra-wideband service, which will give the Marine Corps opportunities to try out its "energy management," is also seen to modernize the communication and security network of the military units and other agencies within the Department of Defense.
"This is a critical step to accelerate the nation's 5G aspirations. At Miramar, we are focused on collaboratively exploring 5G-enabled technology in the areas of energy management, connected vehicles, drones, and base security," Newell said. 
The Marine Corps' partnership with Verizon is identical to other testing grounds put up at bases throughout the country. The NavalX SoCalTech Bridge, where Newell serves as director, organized the collaboration.  
The other bases for 5G living labs include Tinker Air Force Base, Oklahoma; Joint Base Pearl Harbor-Hickam, Hawaii; Fort Hood, Texas; Camp Pendleton, California; the National Training Center at Fort Irwin, California; Joint Base San Antonio, Texas and Naval Base Norfolk, Virginia.
Category: Popular Voices
Tags: 5G Brandon Newell FedScoop Marine Corps Air Station MCAS NavalX SoCalTech Bridge Popular Voices U.S. Marine Corps Verizon