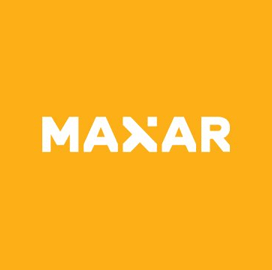 Maxar Technologies
Maxar to Provide Army With GEOINT Support Services Under SBIR Contract
Maxar Technologies has been awarded a potential five-year Army contract worth $48.3 million to provide geospatial intelligence support services.
The Small Business Innovation Research Phase III contract was awarded by the Army Combat Capabilities Development C5ISR Center, Intelligence and Information Warfare Directorate, Maxar said Monday.
"Predictive geospatial modeling is an essential component of military modernization and Joint All-Domain Command and Control efforts," said Tony Frazier, Maxar's executive vice president of global field operations. Frazier is a member of the Potomac Officers Club and is a 2021 Wash100 winner.
JADC2 is the Department of Defense's concept of connecting sensors from each of the military services into a single network. Each service has traditionally used its own tactical network, which is incompatible with those of the other services.
Maxar said the Phase III contract will also support the operations and intelligence efforts of the combatant commands and other government stakeholders.
The company added that it will help gather and analyze the geospatial intelligence that will be used as the basis for predictive analysis tools and algorithms.
Maxar itself has its own predictive analysis tool called Signature Analyst. The tool is a spatial decision support system that the company developed under SBIR Phase I and Phase II contracts.
According to Maxar, the new contract will also enhance predictive modeling with new methods for geospatial data creation, assimilation and conflation.
The goal of SBIR's Phase III is to continue the maturation of the technology involved through external funding from either the government or the private sector, according to the Army's primer.
Maxar is a defense and space company headquartered in Westminster, Colorado.
Category: Member News
Tags: GEOINT Maxar Member News support services Tony Frazier US Army