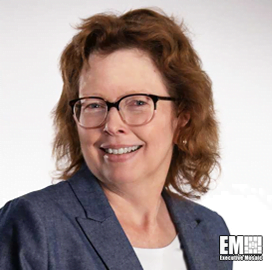 Megan Fitzgerald
SVP of Space Programs
Delivery at Maxar
Megan Fitzgerald, Maxar's SVP of Space Programs Delivery
Megan Fitzgerald is the senior vice president of space programs delivery at Maxar Technologies, a space technology company that specializes in manufacturing communication, Earth observation, radar and satellite products and services. 
Fitzgerald joined Maxar in 2007 through its Space Systems Loral subsidiary and has since served as senior vice president of program management, vice president of production, vice president of systems production and executive director of advanced programs and systems, Maxar said.
SSL is a manufacturing company that designs and builds satellites and space systems for a variety of government and commercial customers. 
Fitzgerald's experience in the satellite industry covers business development, technology development, procurement, manufacturing, integration and test, launch services procurement, launch operations, satellite constellation operations and insurance placement. 
In 1994, Fitzgerald was part of a Loral Space Communications limited partnership with Qualcomm. She was the customer executive responsible for the procurement of the Globalstar LEO space segment from SSL.
In the said role, she directed the deployment and operation of Globalstar's space segment and led the procurement of the company's space and launch segments for its second-generation satellite constellation. 
She previously held engineering management and business development roles for Lockheed Martin's missiles and space division. 
Fitzgerald earned a master of science in structural engineering from the University of California, Berkeley, and a bachelor of science in structural engineering from the University of Michigan.
Category: Executive Profiles
Tags: Executive Profiles Globalstar Lockheed Martin manufacturing Maxar Technologies Megan Fitzgerald Senior Vice President space Space Systems/Loral