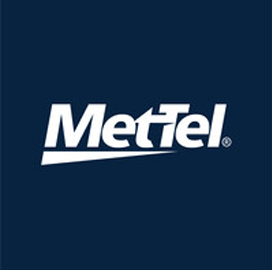 MetTel
MetTel Secures Infrastructure and Communications Solutions EIS Task Orders From GSA
The General Services Administration has awarded two Infrastructure and Communications Solutions Enterprise Information Solutions task orders to MetTel. 
Together, the Network and Voice GSA GICS tasks will amount to over $230M and will run for more than 13 years if all options are exercised. Services rendered under the tasks will facilitate the modernization of the GSA data network, enabling the agency to deliver a highly available, secure, fully-meshed internet protocol network that integrates communications for its internal and external customers and supports legacy voice requirements, MetTel said Thursday.
To transform the GSA's network architecture, MetTel will deliver data services, voice services, and managed services, including its Managed Trusted Internet Protocol Services platform, which it developed in partnership with Raytheon.
MetTel will also deploy its EIS Portal as part of the task orders, equipping the GSA with a "single pane of glass" that allows for monitoring and instantaneously accessing details on the data and voice services delivered via the MetTel network.
MetTel's vice president of federal sales,  Wray Varley, attributed the award to the GSA's recognition of the company's track record of delivering industry-leading voice and data solutions. The company's SD-WAN solution, in particular, transformed legacy networks across the industry, Varley said. 
The award builds on MetTel's previous contract wins across the federal sector, including EIS task order awards from the Social Security Administration and the Department of Homeland Security. The communications and digital transformation provider also landed information technology communication projects with the City of Phoenix, the Marine Corps, Department of Defense and the Federal Emergency Management Association.
Category: Contract Vehicles
Tags: contract award Contract Vehicles Enterprise Information Solutions General Services Administration Infrastructure and Communications Solutions legacy voice Managed Trusted Internet Protocol Services MetTel MTIPS platform network architecture Raytheon Technologies Wray Varley