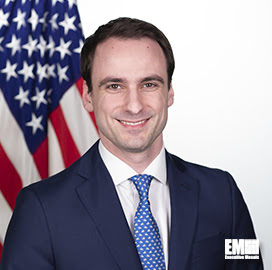 Michael Kratsios
US CTO
White House
Michael Kratsios to Serve as Defense Undersecretary for Research, Engineering
The Department of Defense has confirmed that Federal Chief Technology Officer Michael Kratsios, a two-time Wash100 awardee, will serve as the agency's acting undersecretary for research and engineering. 
He will oversee the Missile Defense Agency, Defense Advanced Research Projects Agency, Defense Innovation Unit, Space Development Agency and the DOD laboratory enterprise, Reuters reported Monday. 
In a statement, DOD Secretary Mark Esper, a three-time Wash100 awardee, said the Kratsios is "someone with experience in identifying and developing new technologies and working closely with a wide range of industry partners."
Kratsios will also oversee the Pentagon's modernization priorities, which include 5G, artificial intelligence, quantum computing and microelectronics.
Mark Lewis, director of defense research and engineering for modernization, will serve as Kratsios' acting deputy.
Kratsios, who is the deputy assistant to the president at the White House Office of Science and Technology, will also serve as the Pentagon's acting chief technology officer.
The Pentagon previously confirmed that CTO Mark Lewis and his deputy, Lisa Porter, would leave the agency to join the private sector. 
During his tenure at the White House, Kratsios worked on efforts related to 5G, AI, quantum computing, microelectronics, autonomous vehicles, commercial drones and advanced manufacturing.
He will retain his role at the White House while serving in his new DOD assignment.
Kratsios previously served as principal and chief of staff at Thiel Capital, chief financial officer and chief compliance officer at Clarium Capital Management and analyst at Barclays Investment Bank. 
He earned a bachelor's degree from Princeton University and was a visiting scholar at Tsinghua University's School of Economics and Management, according to his LinkedIn profile.
Category: Partnerships and Executive Moves
Tags: 5G artificial intelligence Barclays Investment Bank Clarium Capital Management DARPA Defense Advanced Research Projects Agency Defense Innovation Unit Department of Defense DoD Mark Esper Mark Lewis Michael Kratsios Missile Defense Agency Partnerships and Executive Moves Pentagon Princeton University quantum computing Reuters Space Development Agency Thiel Capital Tsinghua University Wash100