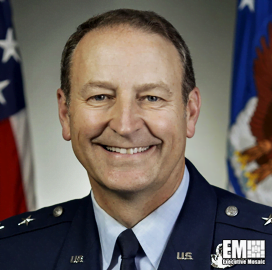 Mike Boera
VP, AF Strategic Account
Executive at Leidos
Mike Boera, VP and Air Force Strategic Account Executive at Leidos
Retired Air Force Maj. Gen. Mike Boera serves as Leidos vice president and Air Force strategic account executive. He is responsible for strengthening and advancing the company's business with the Air Force with a focus on increasing revenue and growth.
Leidos is an information technology company that develops science and technology solutions for customers in the defense, intelligence, homeland security, civil and health care sectors.
Boera has over 20 years' worth of senior leadership experience in government planning, programming, budgeting, human resources, operations, international engagement, requirements and alignment to acquisitions, according to his LinkedIn profile. 
Prior to joining Leidos in June 2018, Boera was the director of business development at Raytheon. He led business development for the mission support and modernization mission area within Raytheon's Intelligence, Information and Services business sector.
Part of his responsibility in the said role was expanding business opportunities with the Air Force, in addition to enabling cross-business collaboration within Raytheon's components. 
He helped develop opportunities to expand current programs and create new business associated with MSM full life-cycle mission capabilities and strengths in areas such as multi-domain command and control, battle management and unmanned aerial systems. 
The retired combat veteran currently serves as a member of Patriot Mission's board of advisers. He is also a life member of both the Air Force Association and the Red River Valley Fighter Association.
Boera earned a master's degree in management and supervision from Central Michigan University and a bachelor's degree in architectural engineering from the University of Colorado, Boulder.
Category: Executive Profiles
Tags: Air Force Air Force Association Central Michigan University Executive Profiles information technology IT Leidos LinkedIn Mike Boera Raytheon Raytheon IIS Red River Valley Fighter Association retired UAS University of Colorado