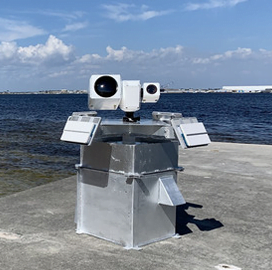 Navy Develops Amphibious UAS Tracker
Scientists and engineers from the Naval Surface Warfare Center Panama City Division have developed the Threat Tracker, a system capable of autonomously detecting, tracking and classifying unmanned aerial systems from land or sea.
According to Marvin Peardon, NSWC PCD Threat Tracker program manager, the tech uses machine learning algorithms to autonomously process radar detections, analyze thermal images to assist in video-based tracking, and distinguish if an object is a UAS or a merely a bird. Jeremy Johnson, NSWC PCD Threat Tracker systems manager, added that the tech also leverages the Gyro-stabilized Marine Platform to ensure that imagery would not be distorted or misclassified while it is mounted on a boat or vehicle, the Naval Sea Systems Command reported.
In addition, the Threat Tracker can provide any of its collected imagery to any command and control system.
The NSWC PCD hopes to conduct operational testing of the Threat Tracker this year following its successful performance in a recent exercise.
Category: Future Trends
Tags: 3D radars command and control Future Trends Gyro-stabilized Marine Platform machine learning Marvin Peardon Naval Surface Warfare Center Panama City Division optical sensor Threat Tracker U.S. Navy UAS tracker unmanned aerial systems