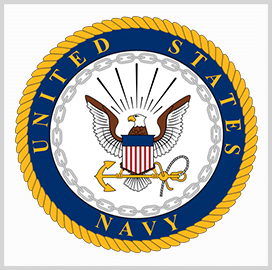 Navy Hopes NGEN-R Contract Can Achieve 'Domain Singularity'
The Navy is hoping that its new $7.7B Next Generation Enterprise Network contract can consolidate the agency's legacy information technology networks under the Navy-Marine Corps Intranet umbrella. 
Known as NGEN-R, the re-compete contract was won by Leidos, but the award is being held up by General Dynamics IT's bid protest, Federal News Network reported Thursday. 
The Navy hopes that, once the issue is resolved, NGEN-R would help absorb its remaining straggler networks through "domain singularity," said Ben McNeal, program manager for Naval Enterprise Networks. 
"It's become really unaffordable, and it's also a large security burden. We've been successful in the past in terms of absorbing legacy and excepted networks into NMCI, but we really want to take a leap as we move forward," McNeal said. 
In 2018, McNeal revealed that the Navy regularly replaces the networks onboard its ships but has never done the same with the NMCI. 
"What we've done is a lot of obsolescence replacement intended to keep pace with the cybersecurity threat, but not a wholesale look at the architecture to figure out how it will meet our future needs," he said.
McNeal said the Navy ultimately wants a flexible network that can withstand cybersecurity threats in a joint environment and provide bandwidth on demand.
Now, McNeal added that NMCI's interoperability can only be leveraged if the Navy is able to keep its IT systems in pace with industry standards. 
The coronavirus pandemic highlighted the need for network upgrades as the number of teleworkers reached levels the Department of Defense was unprepared for, Federal News Network added.
McNeal commended the DOD's response solution called the Commercial Virtual Remote, a telework platform based on Microsoft's "Teams" service. He said the CVR is the closest thing he has seen to domain singularity. 
Category: Popular Voices
Tags: Ben McNeal cloud computing contract vehicle CVR Federal News Network GDIT IT Modernization Leidos Microsoft Teams Navy-Marine Corps Intranet Next Generation Enterprise Network contract NGEN-R Popular Voices U.S. Navy