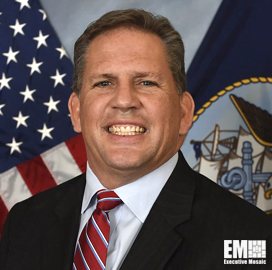 James Geurts
Acquisition official
Navy
Navy is Deciding on Unmanned Shipbuilding Requirements, Official Says
The Navy is in the early stages of testing and refining the specifications of its plan to build hundreds of new unmanned assets, an official said.
Navy acquisition chief James Geurts, a past Potomac Officers Club event speaker and 2020 Wash100 winner, said that it is difficult to design a 2021 budget plan that aligns all of the service's ongoing activities with each other, Breaking Defense reported.  
"It's really tough to write requirements documents in a vacuum or without being able to test things or try things or think through new concepts. Think of this as an alignment document so that we can align all the different activities going on," Geurts added.  
Geurts previously announced that the Navy needs to address operational challenges in technology as the service ramps up its adoption of drones.  
During an Atlantic Council event, Geurts said the maritime service should strengthen its supporting capabilities as unmanned surface and undersea vehicles become more prevalent.
"The interesting thing in the remotely piloted or the unmanned world is it's not as huge [of] a technology issue as [it is] a concept of operations issue, and how do you take the laws of the sea for hundreds and hundreds of years built under one set of circumstances think about them in these circumstances," Geurts added.
While the Biden administration has not yet commented on the matter, the Trump administration has laid out its 30-year plan for the Navy's shipbuilding effort. The plan called for a $27B shipbuilding budget in 2022 and a topline of $33B by 2026.
Category: Speaker News
Tags: acquisition Atlantic Council budget James Geurts Navy Speaker News unmanned Wash100