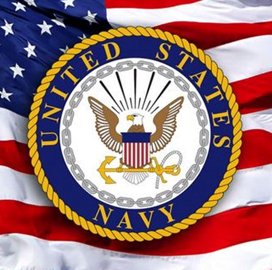 Navy Issues RFI for AI, Other Tech to Reduce Enterprise-Wide IT Burdens
The Navy is seeking information on any state-of-the-art or novel technologies, approaches or processes that can assist information technology staff in solving technical issues for data centers in enterprise networks. As indicated in a request for information notice published on the System for Award Management website, the Navy's goal is to reduce the IT burden and facilitate the use of current network admin or systems admin tools.
The Navy believes that new technologies and approaches, including artificial intelligence, machine learning, expert systems and smart searching technology, can provide IT staff with recommended solutions for technical issues while also providing management support to complex networks, MeriTalk reported.
The requested tech is envisioned to display recommendations via an easy to use dashboard and must not require IT staff to learn a new tool.
The Navy issued the RFI citing the increasing complexity of IT systems and the understaffed state of IT departments.
"The United States Navy is assessing the global impact of transformative technologies that enable IT professionals to perform at an expert level despite not having sufficient IT staff with extensive experience," the RFI stated.
A webinar will be held on May 19 in relation to the RFI. All interested parties can access the link on the SAM website.
Responses to the notice are due June 1. 
Category: Future Trends
Tags: artificial intelligence automated management system enterprise network Future Trends machine learning MeriTalk request for information RFI U.S. Navy