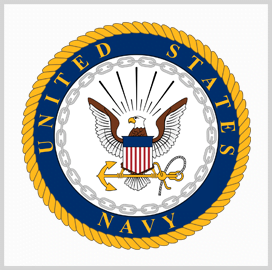 US Navy
Navy PEO USC Sets Sight on Reinforcing Fleet
Rear Adm. Casey Moton, the Navy's program executive officer for unmanned and small combatants, has laid out six program priorities for fiscal year 2021 to reinforce the service's ship lineup.
The PEO USC's plan ties into the Navy's goal of introducing five new classes of warships over the next few years, namely, the FFG(X) New Guided-Missile Frigate, the Large Unmanned Surface Vessel, Medium Unmanned Surface Vessel, Orca Extra-Large Diameter Unmanned Underwater Vehicle and Snakehead Large-Diameter Unmanned Surface Vehicle.  
One of the PEO USC's top priorities for fiscal 2021 is maintaining its steady execution of littoral combat shipbuilding, Moton, a past Potomac Officers Club event speaker, said at a recent webinar hosted by the Navy League of the U.S.
In line with Moton's vision, the Navy shall finish building its last two LCS systems while launching three ships and commissioning four others. Five additional ships are also set to move from post-delivery phase into sustainment.    
Moton also hopes to field the LCS antisubmarine warfare mission package by next fiscal year. As it stands, the Navy's variable-depth sonar is already undergoing testing on the Freedom-variant LCS and is expected to be viable for initial operational capability in 2021.  
According to Moton, the same VDS is meant to be installed in the new FFG(X) warship as part of its multi-mission capability.  
Demonstrating operational mine-countermeasures systems on the LCS is another key priority for the PEO USC. Next year, the Navy plans on testing the Block 1 Knifefish UUV, the Unmanned Influence Sweep System and the Mine-Hunting USV.  
The PEO USC hopes to prove LCS reliability and maintainability as well. In terms of reliability, Moton said the PEO USC is keen on enhancing propulsion and controls, deck and handling systems and radars.
Among other things, the PEO USC wants to complete frigate detail design and prepare for ship production. As discussed by Moton, his team is poised to conduct a thorough baseline review of shipbuilding company Fincantieri to ensure a good baseline to track cost and schedule.  
Moton also set his sights on executing PEO USC's unmanned systems prototyping and acquisition plans. He envisions for the Navy to field four USV prototypes on the West Coast – two each of Overlord and Sea Hunter types – by the end of fiscal 2021.  
Category: Speaker News
Tags: Casey Moton FFG(X) New Guided-Missile Frigate Fiscal 2021 Priority Large Unmanned Surface Vessel Medium Unmanned Surface Vessel Orca Extra-Large Diameter Unmanned Underwater Vehicle Sea Power Magazine Snakehead Large-Diameter Unmanned Surface Vehicle Speaker News U.S. Navy unmanned systems