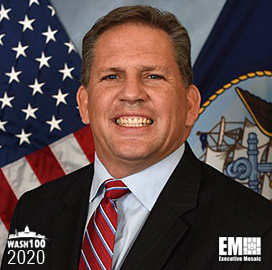 James Geurts
Assistant Secretary
Navy
Navy Seeks Additional Funding Waivers for Columbia Program if CR Period Persists
The Navy's assistant secretary for research, development and acquisition believes that the service would need additional spending waivers to keep its Columbia-class submarine program on track if the government extends the current continuing resolution period.
As James Geurts explained in a recent interview, a persisting CR period would have more impact on the Columbia program, which currently stands as the Navy's top acquisition priority.  
Under the recently issued stopgap measure, the Navy can put two Columbia-class submarines on contract by fiscal year 2021 using incremental funding, USNI News reported Tuesday.  
The new submarines are expected to serve as a replacement for the sea-based leg of the nuclear triad.
According to Geurts, a past Potomac Officers Club event speaker and 2020 Wash100 winner, the Navy is poised to begin full construction of the Columbia submarines in the upcoming FY barring a CR period extension, which would necessitate a waiver to award the contract.
The current stopgap funding measure will remain in effect until Dec. 11. Lawmakers have yet to agree on a spending deal to keep the government funded once FY2021 begins on Oct. 1.  
Geurts further talked about the impacts CRs have on the Navy's ship sustainment efforts at the virtual Modern Day Marine conference.
"CRs by their own nature are certainly disruptive. Uncertainty in CRs makes disruption even more disruptive. And so I've certainly been vocal that that's a challenge looming in front of us. Conversely, our teams are adaptive and you know – hope for the best, plan for the worst," he said.
Category: Speaker News
Tags: Columbia-class submarine program continuing resolution funding. continuing resolution James Geurts Mitch McConnell Speaker News U.S. Navy USNI