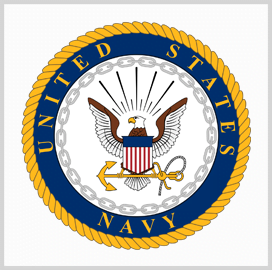 US Navy
Navy Seeks Quick Fix for Material Defect on LCS Ships
The Navy intends to quickly address the material defect in the combining gear of the Freedom-class Littoral Combat Ships to maximize the fleet in the coming years. 
The service has already suspended further deliveries of the Freedom-Class LCS fleet until fixes can be installed on affected ships, including the Minneapolis-Saint Paul and Cooperstown LCS, which are expected to be sidelined through at least part of the summer.
Rear Adm. Casey Moton, the head of the unmanned and small combatants office at Naval Sea Systems Command, said the service is looking to build, test and install the fix on in-service ships as soon as possible without causing too much operational disruption to the fleet, Breaking Defense reported. 
According to Moton, a past Potomac Officers Club Event speaker, the redesigned components will undergo extensive factory and sea-based testing before it is accepted and installed in-service. 
A spokesperson for the Naval Sea Systems Command told Breaking Defense that Lockheed Martin will be responsible for the repairs, with the cost expected to be split between the government and the aerospace company.
To cover all bases, the Navy will conduct separate testing in addition to those carried out by Lockheed Martin and German firm RENK, the developer of the defective combining gear.
If everything goes according to plan, the first two LCS should be ready by the summer. 
Bryan Clark, an analyst at the Hudson Institute, believes that the setback will not have much of an effect on the Navy's operations considering the ships have seen limited deployments over the last 15 years. The LCS fleet, which was originally intended to go on near constant deployments to perform a variety of operations, has been underused due to endurance and reliability issues, Clark said. 
Adm. Mike Gilday, the chief of naval operations, expressed commitment to the LCS fleet. Speaking at a recent conference, Gilday said the Navy will put lethality back into the LCS fleet to make the most out of the ships going into the 2030s.
Category: Speaker News
Tags: Breaking Defense Bryan Clark Casey Moton combining gear littoral combat ships Lockheed Martin Mike Gilday RENK Speaker News US Navy