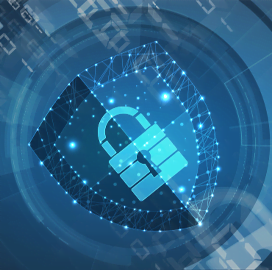 Cybersecurity
Navy to Strengthen Cybersecurity on Unmanned Vessels
The Navy is exploring how anti-tamper measures can help defend its unmanned vessels against hacking attempts from adversaries, according to an official from the service. 
Casey Moton, the Navy's program executive officer for unmanned and small combatants, noted that sailors are not always aboard Navy vessels to deal with cybersecurity issues, National Defense Magazine reported Wednesday.
"We are looking at specifics of anti-tamper [technology] as we do for any platform, but obviously for unmanned, it's a little bit of a different problem," Moton said in a webinar hosted by the Center for Strategic and International Studies. 
The Navy is reportedly investing heavily in robotic platforms, having already poured in about $12B for unmanned aircraft surface vessels and underwater vessels in fiscal years 2021 through 2025, according to Bloomberg Government. 
Moton said the planned anti-tamper capabilities will allow the Navy's unmanned prototypes to be deployed in high-risk environments without risking the safety of sailors.  
"Although they will be under the protection of their carrier strike group, the vessels are probably at times going to have higher attrition. That's part of our calculus and part of the way that we're going forward from that standpoint," Moton added.
According to Moton, the Navy already took the possibility of tampering into account when it was conducting its war games and other studies. 
The Navy plans to operate its future large unmanned surface vehicle as part of the Aegis integrated control system network.
Norton said the arrangement entails that the vehicle will still be overseen by a human who will remotely handle functions like targeting. 
Category: Popular Voices
Tags: Aegis integrated control system network anti-tamper measure Bloomberg Government Casey Moton cybersecurity hacker National Defense Magazine Popular Voices U.S. Navy unmanned system unmanned vessel war game