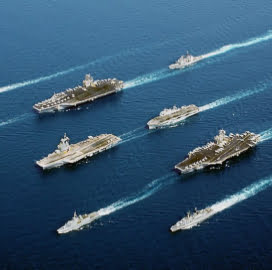 Navy fleet
Navy Warns Shipbuilders of Fire Hazards Following Bonhomme Richard Incident
Navy officials have urged the service's contractors and shipbuilders to improve their fire safety standards after a series of ship fires that curtailed work. 
A fire recently razed the Bonhomme Richard amphibious assault ship and razed 11 of its 14 decks. Letters to the Navy's top leaders revealed that the fire caused "extensive damage" to the ship, Defense News reported.
"I urge you to use [the recent fire] to ensure that our work spaces are clean, that unnecessary clutter is removed, that all fire safety measures are being followed and that there is unrestricted access to firefighting and damage control equipment," said James Geurts, the Navy's top acquisition official and a past Potomac Officers Club event speaker. 
Geurts, also a 2020 Wash100 awardee, asked personnel on Navy ships to be "ever vigilant" in ensuring fire safety and to let the Bonhomme Richard fire serve as a lesson.
Experts fear that the Bonhomme Richard fire may have damaged the ship's "big deck" beyond repair. Sailors are reportedly trained to deal with shipboard fires from their earliest days in training.  
"The island is nearly gutted, as are sections of some of the decks below; some perhaps, nearly encompassing the 844 ft length and 106 ft beam of the ship. Sections of the flight deck are warped/bulging," said Michael Gilday, chief of Naval operations. 
Over the past week, fires were also reported on board the amphibious assault ship Kearsarge at General Dynamics' shipyard and aboard the Navy's future carrier John F. Kennedy at Newport News shipbuilding. 
Category: Speaker News
Tags: Bonhomme Richard General Dynamics James Geurts John F. Kennedy Kearsarge Michael Gilday Naval Sea Systems Command Newport News POC speaker Speaker News U.S. Navy Wash100