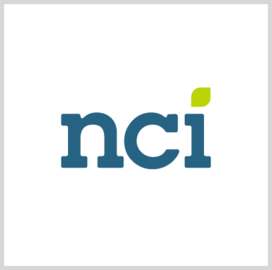 NCI Information Systems
NCI to Use Evolve Wall to Monitor GSA's AI Applications
The General Services Administration has tapped NCI Information Systems to help monitor its artificial intelligence applications under the terms of an $807 million Digital Innovation for GSA Infrastructure Technologies task order.
NCI will support the GSA's application monitoring needs by deploying a proposed Evolve Wall command-center screen that is meant to display the lifecycle of the agency's AI deployments. 
According to NCI President and Chief Executive Officer Paul Dillahay, a Potomac Officers Club member and 2020 Wash100 winner, the wall generates a comprehensive and transparent view of the emerging technologies that GSA is deploying in its quest to become an end-to-end digital entity, FedScoop reported. 
The Evolve Wall is capable of identifying an organization's new emerging technology use cases, complete with details of their impact and how long before they can become proofs of concept and be deployed. 
For instance, FedScoop said the GSA could use the wall to monitor the learning progress of an AI module over the past two months. 
Dillahay believes that the ability to monitor newly deployed applications will become more commonplace over time. 
In addition, NCI led the GSA's adoption of animated personas to test new products before they go to market. Personas can be used to test new service desk concepts without causing interruptions in users' day-to-day work. 
NCI also plays a role in improving the agency's cybersecurity tools. Citing the recent hacking incident involving SolarWinds' Orion software, which the GSA uses, NCI Chief Operating and Financial Officer Chuck Hicks, another POC member, expressed commitment to reinforcing the agency's cybersecurity. 
The DIGIT task awarded to NCI is inclusive of a one-year base period and seven option years and covers other aspects of intelligent automation, including automating mundane service desk tasks with robotic process automation and machine learning. It marks NCI's largest contract award since its inception.
Category: Member News
Tags: AI applications artificial intelligence Chuck Hicks Digital Innovation for GSA Infrastructure Technologies FedScoop General Services Administration GSA Member News NCI Information Systems Paul Dillahay