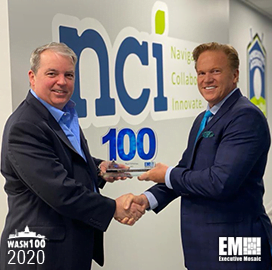 Paul Dillahay of NCI
and Jim Garrettson
of Executive Mosaic
NCI's Paul Dillahay Wins Second Wash100 From Executive Mosaic
NCI President and CEO Paul Dillahay, a Potomac Officers Club member, has received his second Wash100 award from Executive Mosaic for his impact on the government contracting sector.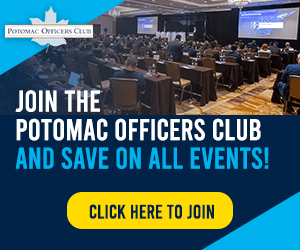 Executive Mosaic CEO Jim Garrettson presented the award to Dillahay in recognition of his contributions to growing NCI's information technology and engineering platform.
He also led the company in securing multiple contracts to develop IT and command, control, communications, computers and intelligence implementations for federal agencies across the industry. 
In October 2019, Dillahay supervised a potential $269.9M contract from the Defense Information Systems Agency. Under the four-year deal, NCI will integrate new technologies, simplify operations and improve efficiencies to help manage the Department of Defense enterprise IT infrastructure.
"We will implement new and innovative technologies, including our NCI Shai framework, to reduce administrative burden, automate repetitive tasks and share knowledge across the enterprise that will enable our team to deliver unparalleled support to JSP customers," Dillahay said.
Dillahay has been continuously improving NCI's line of artificial intelligence products. In July 2019, he advocated for AI and IT integration training within the federal government. 
Before Dillahay joined NCI in October 2016, he served as executive vice president of the health and litigation solutions group at CACI. 
Dillahay boasts more than 15 years' worth of executive-level experience in the government IT services sector. He has served as chief strategy officer at Anthem, executive in residence at Seabury Aerospace Group, president and chief operating officer at USIS and vice president of operations for a defense division at Lockheed Martin. 
Wash100 is an annual selection of the most influential personalities in government contracting. The award honors executives and government officials who have demonstrated skills in leadership, innovation, reliability, achievement and vision in the sector.
Category: Popular Voices
Tags: CEO Department of Defense DISA DoD engineering Executive Mosaic govcon government contracting Information Systems Agency information technology Jim Garrettson Lockheed Martin NCI Paul Dillahay POC member Popular Voices President Seabury Aerospace Group USIS Wash100