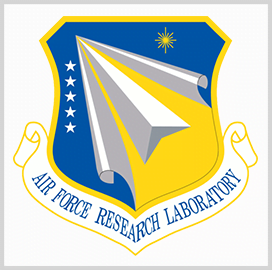 Air Force
Research Laboratory
AFRL Working on Establishing Ties With Space Force, Using Digital Engineering
Brig. Gen. Heather Pringle, commander of the Air Force Research Laboratory, discussed the organization's 2021 priorities during a Feb. 4 event hosted by the Air Force Association's Mitchell Institute for Aerospace Studies. 
The AFRL is starting the year with plans to develop a closer relationship with the U.S. Space Force and is working on a new focus to integrate digital engineering in its operations, Air Force Magazine reported.
The laboratory now supports science and technology initiatives for both the Air Force and the USSF, the country's newest military branch. Pringle noted that AFRL officials are working to align the organization's programs with the research priorities of Gen. John Raymond, the chief of space operations.
Raymond's top research needs focus on space security, combat power projection, space domain awareness, information mobility, and mobility and logistics in space.
The AFRL's science and technology portfolio will be tailored to support Raymond's five priorities to achieve flexibility in the applications of a certain technology, Pringle explained.
The AFRL chief also said that she envisions a future where a balance between the two military services continues.
"Our mantra is going to be 'collaborate to innovate,'" she stressed, explaining that such an attitude will entail building digital tools, developing a digital workforce and utilizing digital engineering.
Plans are now in place to address the workforce aspect of the AFRL's 2021 plans. According to Pringle, the organization is working to accelerate the recruitment process and is preparing a new plan that would repay student loans worth up to $125,000. The plan is expected to attract college graduates facing heavy financial burdens interested in pursuing a lucrative career in the private sector.
Meanwhile, around 700 AFRL staffers are set to join the Space Force, although they will still work on their regular research tasks in areas such as satellite design.
Category: Space
Tags: AFA AFRL Air Force Mag Air Force Magazine collaboration combat power projection Department of Defense digital engineering digital tools digital workforce Heather Pringle information mobility innovation John Raymond logistics satellite design space space domain awareness Space Force space operations space security