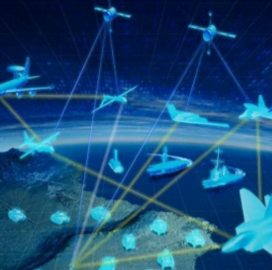 JADC2 concept
AI to Play Crucial Role in Enabling JADC2, Experts Say
Government and industry experts at AIAA's ASCEND conference said artificial intelligence will be critical to fulfilling the Department of Defense's Joint All Domain Command and Control concept.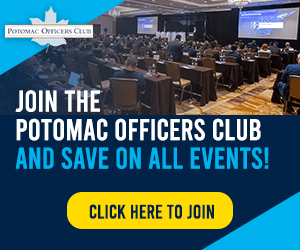 According to Brig. Gen. John Olson, mobilization assistant to the Space Force chief, AI and machine learning will enable the military to understand and react to battlefield information gathered through multiple JADC2 networks.
Olsen said automations are crucial given the intricacies of the kill chain and the observe, orient, decide, act loop timelines that are compressed in the modern environment, Breaking Defense reported.
Bluestaq CEO and co-founder Seth Harvey added that AI will be vital to performing day-to-day chores, such as tasking sensors integrated into the JADC2 construct.
Harvey also believes that AI will be important in managing big data coming from repositories such as the Space Force's Unified Data Library, which hosts space situational awareness data.
AI has been an area of interest for the Department of Defense for its potential to improve decision-making processes, particularly at the tactical edge.
The Joint Artificial Intelligence Center, a defense organization tasked with harnessing the power of AI, is focused on integrating AI across the DOD.
JAIC Director Lt. General Michael Groen said enterprisewide AI integration efforts require a purposeful vision for platforms, data usage and architecture development, including ones supporting concepts like JADC2. The general noted that the DOD has to adopt a software mindset where things are built to continuously evolve in order to fully embrace AI.
Category: Digital Modernization
Tags: artificial intelligence Bluestaq Breaking Defense digital modernization JADC2 John Olson Joint All-Domain Command and Control machine learning Seth Harvey Unified Data Library