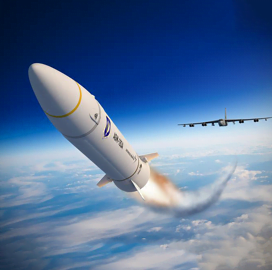 ARRW hypersonic missile
Air Force Faces Setback in ARRW Hypersonic Missile Program
The Air Force fell short during the first rocket booster test of its hypersonic AGM-183A air-launched rapid response weapon.
During the test, the ARRW booster vehicle failed to launch from a B-52 Stratofortress bomber, as the Air Force planned, due to problems in its launch sequence.
The test was facilitated by the 419th Flight Test Squadron and the Global Power Bomber Combined Test Force at the Edwards Air Force Base in California, Defense News reported.
In a statement, the service said it will look into the problem and make alterations before it proceeds with a future test.
Brig. Gen. Heath Collins, the Air Force's program executive officer for its armaments directorate, is taking the setback in stride. According to Collins, the recent test provided invaluable information to learn from and continue with the ARRW program.
The rocket booster test was meant to demonstrate the safe operation of the ARRW booster from the B-52 bomber. It was also supposed to inform the Air Force about the weapon's performance and operational speeds through ignition and the boost phase.
Additional booster and all-up-round test flights are scheduled throughout the year.
The ARRW hypersonic weapon was previously subjected to captive carriage flight tests, where it was carried by an aircraft but not released. The purpose of the test was to determine how the missile impacts the flight profile of the aircraft.
The missile was developed by Lockheed Martin under the terms of a $480 million contract. It is envisioned to enhance the Air Force's hypersonic strike capabilities by taking down time-dependent targets in challenging locations, including enemy military bases and surface warships.
Category: Defense and Intelligence
Tags: AGM-183A Air-launched Rapid Response Weapon ARRW Defense and Intelligence Defense News Heath Collins hypersonic rocket booster test US Air Force