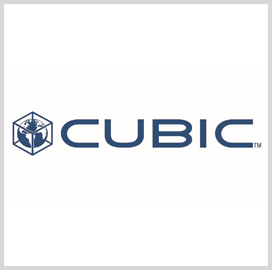 Cubic
Air Force Taps Cubic for Combat Training System Pods
Cubic Mission and Performance Solutions has received a contract to provide P5 Combat Training System pods and auxiliary training hardware as part of the Combat Air Force Contracted Air Support program, which aims to support the training of U.S. military fighter pilots.
P5CTS pods enhance training exercises by providing live-air picture, recording mission data, adjudicating weapons engagements and relaying time, space and positioning information between aircraft.
The system hosts GPS-enabled, aircraft-mounted airborne instrumentation pods and ground stations, which facilitate air combat training and post-flight debriefing, Cubic said.
Pods provided under the contract will support Air Combat Maneuvering Instrumentation interoperability requirements for training with the Air Force's fourth-generation fighters and F-35s.
The pods are scheduled to be delivered this summer and are expected to be used at existing P5 training ranges within the contiguous United States. Cubic expects additional deliveries in support of follow-on CAF CAS phases at other operating locations.
To fulfill the work outlined in the contract, Cubic will be assisted by its principal subcontractor Leonardo DRS, whose airborne and intelligence systems business division is responsible for the design and production of the airborne P5CTS. As a subcontractor, Leonardo DRS will help Cubic produce and maintain the pods.
CAF CAS serves as a means for the Air Force to procure adversary air and close air support services to help train fighter pilots.
Category: Defense and Intelligence
Tags: CAF CAS program Combat Air Force Contracted Air Support Cubic Cubic Mission and Performance Solutions Leonardo DRS P5 combat training system pods P5CTS US Air Force