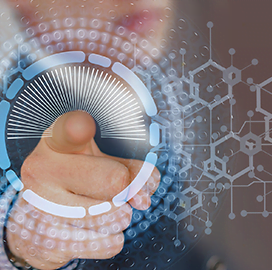 Information technology
Air Force to Implement Enterprise IT Upgrades by Summer
Hanscom Air Force Base plans to make improvements to the information technology user experience at various Air Force and Space Force locations starting in the summer.
"Wave 1" of the project will be focused on implementing an enterprise IT-as-a-service upgrade, which is expected to serve as a consolidated service desk catalog for more than 700,000 users, the Air Force said.
"We have seen the user experience improve dramatically at our current bases and are excited to provide this service to all airmen and guardians," said Col. Justin Collins, a senior Air Force materiel official.
EITaaS is an Air Force initiative aimed at adopting industry best practices to improve the standards of IT service across the Air Force and Space Force.
The Air Force said Wave 1 will expand on the progress of the EITaaS Risk Reduction Effort, which was a feasibility study on enterprise IT in relation to end-user services, network as a service and compute and store.
Anthony Ciamillo, program manager of EITaaS, said Wave 1 will go a long way in supporting the Department of Defense's Joint All-Domain Command and Control concept.
Through JADC2, DOD wants to connect sensors from all the military services into a single network. The services have traditionally used their own tactical networks that are incompatible with those of the other services.
The EITaaS integrated program office is experimenting with Wave 1 at eight locations: Buckley Garrison in Colorado; Offutt Air Force Base in Nebraska; Joint Base Elmendorf-Richardson in Alaska; Hurlburt Field in Florida; Cannon AFB in New Mexico; Maxwell AFB-Gunter Annex in Alabama; Pope Field in North Carolina; and Spangdahlem Air Base in Germany.
Category: Digital Modernization
Tags: Air Force Anthony Ciamillo Department of Defense digital modernization DoD EITaaS Hanscom Air Force Base information technology IT JAD2C Space Force Wave 1