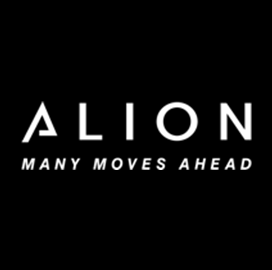 Alion Science and
Technology
Alion to Provide Prototyping Services Under DOD IAC Contract
Alion Science and Technology has been awarded a five-year task order to provide prototyping and experimentation services to the Department of Defense.
The $39 million task order was awarded under the DOD Information Analysis Center's multiple-award contract vehicle, which was created to enhance the Defense Technical Information Center repository, Alion said.
Established in the 1940s, DOD IAC provides technical data management and research support for federal government users.
The program serves the defense acquisition community and fosters collaboration within the broader science and technology community outside the DOD, Alion said.
Terri Walker-Spoonhour, senior vice president of operations at Alion, said the company will explore applications of its electromagnetic warfare, cyber and artificial intelligence capabilities. Walker-Spoonhour is a member of the Potomac Officers Club.
Alion said it will accelerate the development of components, assess existing commercial and government products and provide research and development expertise in the integration of capabilities and systems.
The company added that it expects to work on cyber capabilities; command, control, communications, computers, intelligence, surveillance and reconnaissance; counter weapons; weapon systems delivery platforms; and advanced unmanned and autonomous weapons systems.
Alion recently also won a $77 million task order to provide aircraft and weapons system research and development for the DOD's F-35 Lightning II Joint Program Office.
The task order, which was also awarded under the IAC MAC, covers research, technical studies and analysis on weapons systems and platforms.
The company said its research and development services will support shipboard and airborne radar and electronic systems, weapons control systems, aircraft launch and recovery equipment.
Category: Defense and Intelligence
Tags: AI Alion artificial intelligence C5ISR contract vehicle cyber Defense and Intelligence Department of Defense DoD DTIC IaC Information Analysis Center MAC multiple-award contract prototyping task order Terri Walker-Spoonhour