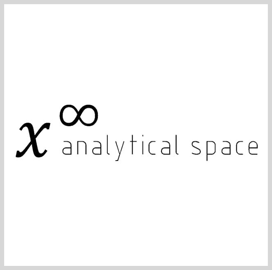 Analytical Space
Analytical Space Wins Air Force Contract for Fast Pixel Network Deployment
AF Ventures, the commercial investment arm of the Department of the Air Force, has awarded Analytical Space a three-year, $24 million contract, which includes funding from the Space and Missile Systems Center and the Air Force Research Laboratory.
The contract will allow Analytical Space to research on, develop, launch and deploy six satellites and two other hosted payload network nodes for the company's Fast Pixel Network.
The Fast Pixel Network functions as a data transport network in low-Earth orbit designed to ingest data from satellites that collect geospatial intelligence. The network is also capable of routing the ingested data from node to node by using high-speed optical intersatellite links, as well as delivering the data in real-time to military operators, intelligence analysts and commercial satellite data consumers, Analytical Space said.
The Fast Pixel Network operates in the space between GEOINT satellites and existing ground station networks. The LEO network supports the capability to allow critical space-derived intelligence to reach end-users with "very low latency" across different data pathways faster than space networking architectures currently available, Analytical Space explained. 
Through the company's new network, satellite operators will have the ability to deliver more data faster to end-users in near real-time without changing their existing communications hardware. 
Gil Valdes, the business development lead for Analytical Space's government programs, noted the importance of maintaining connectivity with space-based assets and the data they produce as the space domain is increasingly becoming contested. The company is proud to play a key role in ensuring the U.S. and its allies have the capability of having secure connectivity, Valdes said.
Analytical Space CEO Dan Nevius also commented on the recent contract award, stressing that satellite data is a key enabler in the fight against climate change, prevention of humanitarian injustices and addressing complex economic problems. Nevius added that the contract from the Air Force is a reflection that Analytical Space's dual-use technology will be a "premier enabler" in the U.S. government's effort to build a peaceful world by democratizing and accelerating access to space-borne data — a mission supported by the Fast Pixel Network.
Category: Space
Tags: AF Ventures AFRL Air Force Research Laboratory Analytical Space Inc ASI contract win Dan Nevius Fast Pixel Network GEOINT satellites geospatial intelligence Gil Valdes satellite connectivity SMC space Space and Missile Systems Center US Space Force