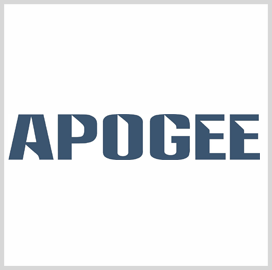 Apogee Engineering
Apogee Engineering to Support Air Force's Multi-Domain Efforts
Apogee Engineering has been awarded a contract to provide the U.S. Air Force with expertise in requirements analysis and systems engineering.
The contract, which was awarded by Air Combat Command's Intelligence Directorate, will provide support to the Air Force Cryptologic Office's Intelligence, Surveillance and Reconnaissance-Cyberspace and Multi-Domain Innovation Division, Apogee said.
Under the terms of the contract, Apogee will help the 16th Air Force integrate capabilities in multi-source ISR, cyberspace, electronic warfare and information operations.
Apogee said its team is versed in conducting research to define multi-domain requirements, develop capabilities, modernize combat forces and perform experiments.
Most of the work will be done at Joint Base Langley-Eustis in Hampton, Virginia, and Joint Base San Antonio in San Antonio, Texas, Apogee said.
In 2018, the Air Force released an implementation plan aimed at addressing the need for a capability to "seamlessly shift between domains, components and regions to create high velocity, precision warfighting effects to satisfy the Joint Force Commander's mission needs."
The Department of Defense more recently described multi-domain operations as the concept of achieving a competitive advantage over an adversary by exposing it to multiple threats that require separate responses.
Frank Varga, vice president of operations at Apogee, said the contract is in line with President Joe Biden's objective with his Interim National Security Strategic Guidance.
In the said guidance, the White House highlighted cyber attacks as a top threat alongside climate change, infectious diseases and disinformation.
Biden also announced his administration's prioritization of emerging technologies such as artificial intelligence, quantum computing, next-generation communications and big data tools.
Category: Defense and Intelligence
Tags: 16th Air Force Air Combat Command Air Force Apogee Engineering Defense and Intelligence Department of Defense electronic warfare Interim National Security Strategic Guidance Multi-Domain Operations systems engineering