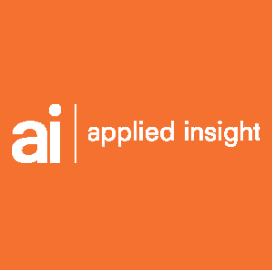 Applied Insight
Applied Insight Releases Update for Cloud-Based CMMC Compliance Platform
Applied Insight, a government technology provider, has announced an update for its cloud-based platform designed to help defense contractors comply with Cybersecurity Maturity Model Certification requirements.
The Altitude platform's new features will allow it to serve as a plug-and-play compliance solution for federal contractors working with the Department of Defense, Applied Insight said.
"We can deploy a full CMMC-ready cloud-based environment spanning multiple cloud service providers in a matter of days, and we can scale immediately once deployed," said Adam Gruber, chief technology officer at Applied Insight.
According to the Altitude product page, the platform supports native Amazon Web Services assets and other shared services and tools.
Applied Insight said Altitude can help users accomplish federally-mandated cloud migrations, offload the infrastructure requirements of software development, maintain a secure cloud environment and implement a secure enterprise telework environment.
DOD established the CMMC framework in early 2020 to raise the cybersecurity maturity standard among defense contractors. The model has five cybersecurity levels that represent how well a company can protect the confidentiality of controlled unclassified information.
Gruber said the process for achieving CMMC compliance is particularly difficult for small and mid-tier federal contractors serving defense and intelligence customers.
Applied Insight said it is currently finalizing a multi-tenant, software-as-a-service version of Altitude to provide more flexibility and cost-saving options for smaller contractors.
Applied Insight is an information technology and services company headquartered in Tysons, Virginia. The company's specializations include data analytics, cyber operations, infrastructure engineering, application development, infrastructure convergence, cloud and machine learning, according to its LinkedIn profile.
Category: Cybersecurity
Tags: Adam Gruber Altitude Amazon Web Services Applied Insight AWS cloud compliance cybersecurity Department of Defense DoD information technology IT LinkedIn